Announcing SB Law

By Regina Y. Speed-Bost | August 11, 2020
It was more than a decade ago that founder, Regina Speed-Bost, first spoke her dream of her own law practice. She shared this vision with only a handful of people, some of whom she hoped would join her efforts; all of whom understood the promise embedded with such an undertaking. Fast forward more than a dozen years and SB Law, PLLC opens its doors. What does the founder of SB Law have to say about the launch?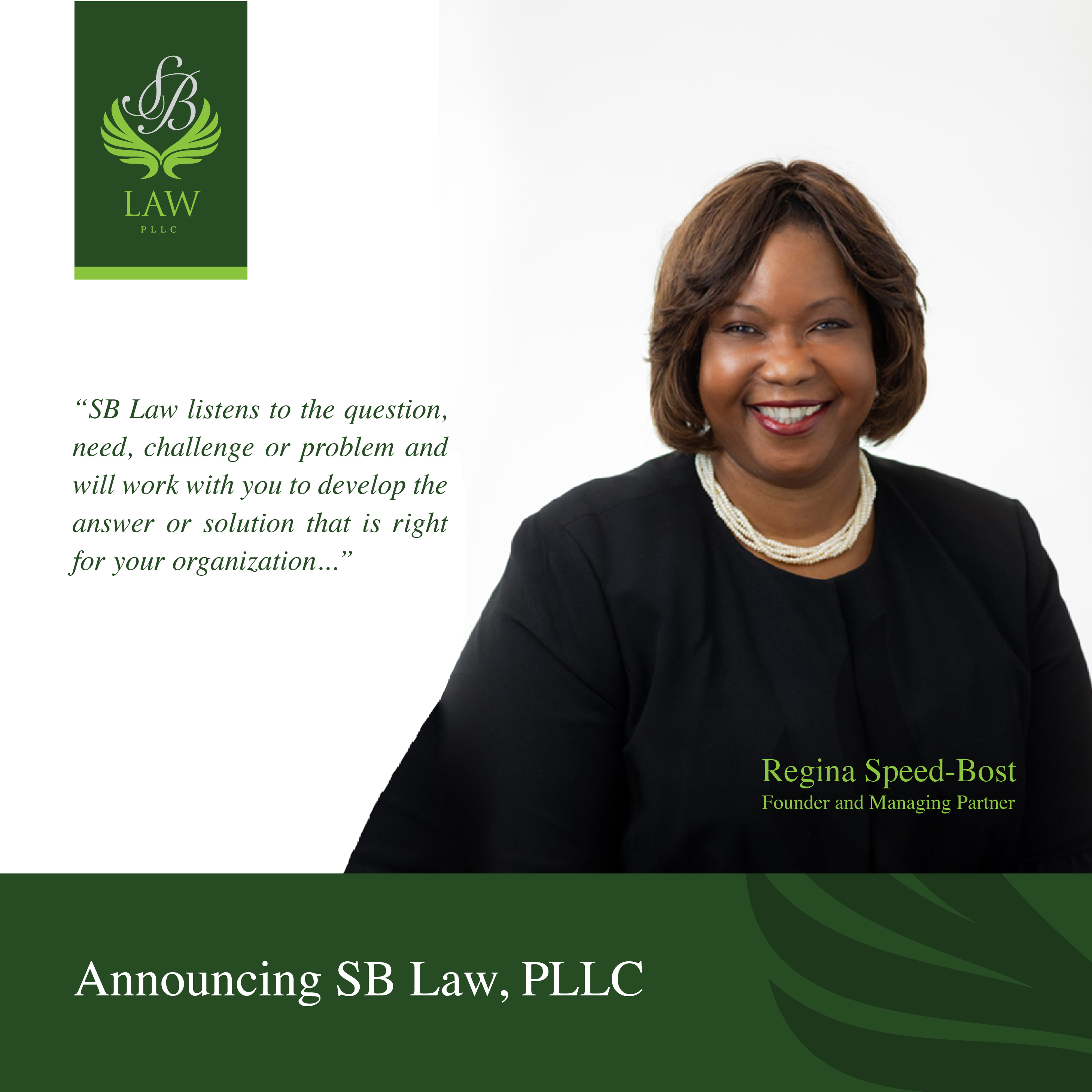 Q:  Regina, we are in the midst of a pandemic, economic unrest and social and societal challenges.  Why open a law firm now?
A:  Why not?  The time "out of the office" as we sheltered in place and worked remotely because of COVID-19 afforded me greater opportunity to think about the next years of my career and the next years of the industry on which I have been focused since graduating law school.  The economic uncertainty, and honestly the actions certain clients have taken in the face of the pandemic, allowed me to hear clearly a growing cry from clients regarding the pricing of outside legal counsel. I am a problem-solver and when clients began coalescing and sharing with me their thoughts about how my dream might help their problem, things came together.  Finally, the social unrest and societal challenges we face around the issue of race in the U.S. have existed for me my entire career.  In fact, my entire life. They do not present a reason not to move forward, but rather are a catalyst for me.
Q:  How will SB Law differ from your prior practice?
A:  In many important ways, my practice will remain absolutely the same. I will continue to represent clients in matters before FERC and state PUCs and PSCs.  I will continue to advise on enforcement and compliance matters.  I will continue to negotiate in natural gas and electric power rate and tariff cases and, when necessary, litigate those matters on behalf of my clients. The key differences will be that I am able to take on representations on a consistent basis without the challenge of conflicts that often arise in larger firm settings. Finally, I hope it means that clients will be better able to develop the type of trusted advisor relationship they desire without the interference or interruption that sometimes occurs with larger firms.


Q:  Are there plans for growth?
A:  Definitely.  As client demand increase and the need is sustained, SB Law will grow. This platform also allows me to practice in new areas and I am excited for the freedom and flexibility to do so. For now, however, I hope clients will see the value in this proposition.